Represented Artist Showcase SEPT - OCT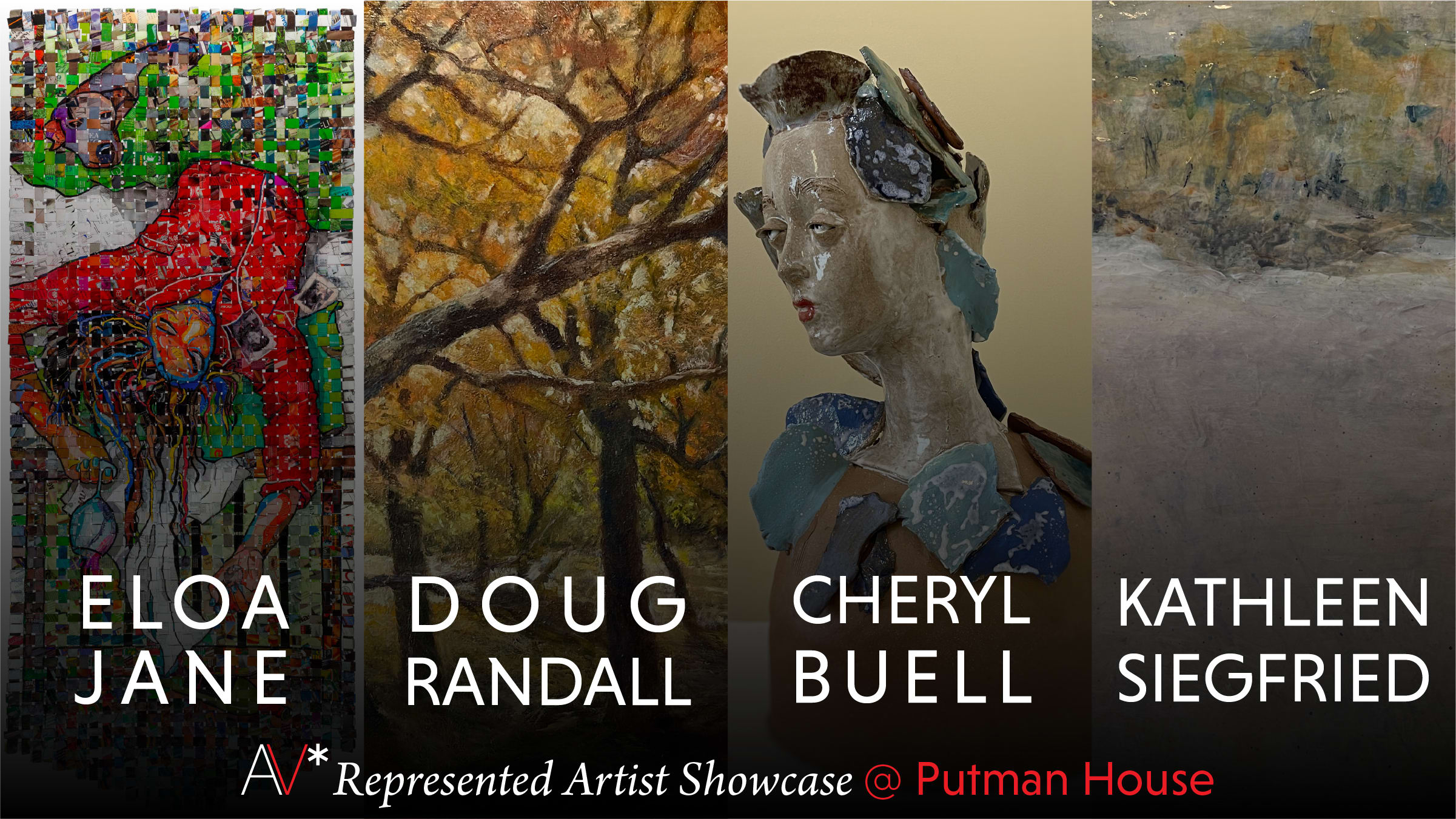 September 7, 2023 - October 27, 2023
Eloa Jane, Kathleen Siegfried, Cheryl Buell, Doug Randall
The AV* Represented Artist Showcase is a curated exhibition featuring our talented Artists. Each Artist takes over one of the three Suites upstairs at the AV* Gallery, allowing their full artistic vision to come to life. In this case, we have dedicated Suite 1 to Eloa Jane, Suite 2 to Doug Randall, and Suite 3 to both Kathleen Siegfried & Cheryl Buell.

Eloa Jane Pereira, a Brazilian-born artist and architect, found her artistic calling after immigrating to the US in 2005. In the face of new challenges and cultural adaptation, she discovered solace in creating art. Eloa Jane's journey from architect to artist was fueled by her desire to find meaning beyond material comforts. With limited resources, she turned to repurposing discarded paper, using her art to raise environmental awareness and express hope for the future. Her work showcases intricate textures and personal experiences, inviting viewers to reconsider their consumption habits. Eloa Jane's art is a testament to resilience and resourcefulness.

Doug Randall, a seasoned NW Arkansas artist, draws inspiration from a lifetime dedicated to art. His journey began in upstate New York in 1946, where he watched plein air artists amidst the autumnal hues of the Lake District. In 1974, encouraged by his wife, he attended the Holden School of Art in Charlottesville, VA, honing his oil painting techniques. After a hiatus focused on family and home-building, Doug rekindled his passion in 1993, winning his first award at the Sager Creek Arts Center Competitive Show in Siloam Springs, Arkansas. His art, which he aptly dubs "Mindscapes," captures composite landscapes of places and emotions, embracing abstraction, impressionism, and tradition. Doug's work resonates deeply with viewers, evoking a sense of familiarity and connection.

Cheryl Buell, a seasoned clay artist, draws inspiration from her Arkansas roots and her current woodland home in Winslow. With 40 years of dedication to her craft, Cheryl's art is a reflection of the world around her. Her work seeks to capture the essence of the subconscious and the ever-evolving events that shape her life. Through clay, she gives new color, shape, and form to her surroundings, transforming fleeting moments into timeless art. Cheryl's creative process is a release and a form of freedom, where inspiration flows through open eyes and inquisitive questions, constantly challenging her to depict the subconscious.

Kathleen Siegfried, a retired teacher and experimental artist, is captivated by the world of abstract expression. Her creative journey begins with color, guiding her compositions through childhood memories, imagination, and suggestion. Whether she wields watercolors or acrylics on paper, canvas, or wood, Siegfried's art blooms from the fusion of memory, imagination, and subtle hints. Inspired by aquatic memories from Ohio to New Jersey and now in Northwest Arkansas, she explores landscapes infused with technological influences. Her background in language arts enriches her expressive artistry, blending literature and painting. Since retiring in 2012, she has found inspiration in Northwest Arkansas' vibrant art community.